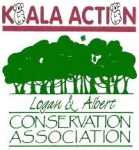 The Department of Environment and Resource Management (DERM) has invested resources in the management and delivery of wildlife and inventory information to its internal and external clients. The Environmental Information Systems Unit is the custodian of the WildNet and Wetland Information Capture System (WIC) applications and works with DERM and external partners for the acquisition and delivery of a range of wildlife and survey information.
The reporting of wildlife - both dead and alive - to DERM IS A CRITICAL ACTION for all citizens to do.
WHY is reporting of wildlife SO IMPORTANT?
Sightings are entered into a data base and are used in DESKTOP STUDIES by consultants researchers and others to help compile environmental assessments that are part of development applications.Sometimes the citizen scientists' wildlife sightings may be the only record.
Wildlife Online allows internet users to request species lists for selected areas, specified points or defined areas. The options include species (all, plant or animal), type (all, native or introduced), status (all or rare and threatened), records (all, confirmed or specimen), date (all or since 1980) and output (pdf or text file).
Species lists for protected areas (national parks, conservation parks and resources reserves), forestry areas (State forests and timber reserves) and Local Government Areas in Queensland are generated from summarised sighting data and species lists.
Users can also request species lists generated from summarised sighting data for buffered points or defined areas using coordinates (decimal degrees). The submitted requests are processed every 15 minutes and the resultant species lists are sent to the user's email account as an attachment. The species outputs includes kingdom, class, family, scientific name, common name, introduced flag, NCA status, EPBC Act status, number of records and number of specimens.
For more information about Wildlife Online, please contact the WildNet Team on33305484 or This email address is being protected from spambots. You need JavaScript enabled to view it.
LACA Logan and Albert Conservation Association strongly urges all new residents in any area to find out what wildlife has been recorded in the area and also to continue to update the online database. This list can also be useful to help you identify a spcies you see in your area. The information has been adapted from a document DERM sent to us. This is that document.
DERM_Internet_Wildlife_Information_Systems012011.doc 113.50 Kb 18/02/2011, 17:34
LACA also has an online form you can fill in which we forward to DERM. Locate this in lefthand column front page. While sightings of koalas are critical because there are some planning regulations that may help - though they are still inadequate - all species are important.