New partnership for wildlife carers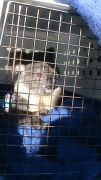 This koala was rescued on 5 October 2011, and taken to Daisy Hill Koala Sanctuary. He was euthanased at Moggil Hospital due to his being blind (from having had conjunctivitus and cystitis) and not having a suitable habitat to be released. He was 6 years old. Apparently if his habitat was denser he would be fine to survive as they usually rely mainly on smell and hearing (in a koala with normal sight). They do release koala's that are blind.
Image aside is one of the photos of the koala "rescued" by a local wildlife carer.
The new partnership between DERM and RSPCA ,Qld and the carer network would strengthen the overall care of wildlife in Queensland by combining resources and providing a united approach. RSPCA Qld and DERM have driven this change to improve coordination and response times, and reduce the time that animals are in distress according to Mr Bradley from RSPCA
The change to 1300 ANIMAL means the caller will speak directly to an experienced RSPCA Qld operator who will arrange an appropriate response. The partnership covered various aspects of the management and regulation of protected wildlife rescue, care and rehabilitation.
The new arrangements will be trialed for 12 months from 1 September, and DERM has contributed $60,000 to support the improved response and the RSPCA's package of improved networking, training and communication for the wildlife carer network. DERM will still be responsible for issuing wildlife rehabilitation permits.
The care and rehabilitation of sick, injured and orphaned wildlife is delivered through a dedicated volunteer network of licensed wildlife carers throughout Queensland. RSPC Qld currently has approximately 400 'wildlife heroes' who are available to conduct the rescue of sick, injured or orphaned animals and who support wildlife carers and that number is set to increase following a recruitment drive.
DERM ensures that wildlife care is done according to best practice and meets the expectations of the broader community through a Code of Practice for carers.
Read that code here. I have some reservations about the code. Hopefully there will be an open review after 12 month trial period.
You can see the presentation delivered to wildlife carers here. New partnership for wildlife care information is here
The greatest threat to our local koalas in the LACK OF POLITICAL WILL TO CREATE LEGISLATION TO PROTECT THEIR HABITAT.