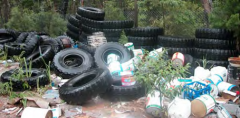 The Department of Environment and Resource Management (DERM) is undertaking a substantial waste reform program comprising three main elements: a new waste strategy, new legislation, including a new Act and an industry waste levy.
Queensland's Waste Strategy 2010 – 2020 Waste Avoidance and Recycling Consultation Draft can be read and downloaded here. It is a 44 page pdf document.
A stakeholder advisory committee will be appointed to provide advice to the Minister on the strategy's implementation, including preparation of the necessary legislative measures.
Submissions on the draft strategy can be made until 31 July 2010. Please note: this date has been extended at the request of stakeholders.
Submissions can be sent by email to
This email address is being protected from spambots. You need JavaScript enabled to view it.
Submissions may also be forwarded by post or fax. Send your submission to:
Project Manager – Queensland's Waste Strategy consultation
Natural Resources and Environment
Department of Environment and Resource Management
GPO Box 2454
BRISBANE QLD 4001
Phone 13 13 04 Fax: 07 3330 5996
Submissions must be received by the closing date and include:
the name and address of each submitter
the signature of each submitter (an electronic scan is acceptable for email submissions)
the reason for the submission
a statement of the facts and circumstances supporting the submission.
When making a submission, please ensure that direct quotes or comments are referenced with the relevant section of the strategy.