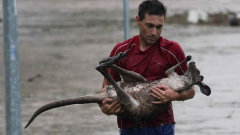 HELPING THE ANIMALS AFFECTED BY 'NATURAL' DISASTER
The flooding in Queensland has been pretty devastating - thousands of families have lost homes or possessions. If you'd like to donate money or supplies, please do so here: http://www.qld.gov.au/floods/donate.html
The losses of pets, farm animals and wildlife remain untold. Continual emergency broadcasts are urging South-East Queenslanders to seek higher ground amidst further devastating rises in flood levels, but for millions of animals in affected regions there can be little or no warning. Animals Australia gives coverage here
Wildlife pets and farm animals also need our help. If you'd like to help buy supplies and food for displaced animals, please do so here: https://donate.rspcaqld.org.au/flood. to support services organised by RSPCA for domestic animals, farm animals and our native wildlife. Please read this page to see how much various items cost.
RSPCA's Townsville and Fairfield Shelters sent crates to help authorities deal with domestic pets stranded in Theodore and have now set up a temporary Shelter at the evacuation centre at Central Queensland University. They have also set up a data base of foster carers in the area who can look after pets and livestock during the crisis. There are three Inspectors plus a boat and a volunteer ambulance devoted to animal rescues. To date their efforts have been encouraging, particularly in regard to livestock and native wildlife
Queensland Wildlife Rehabilitators Council QWRC have wildlife rehabilitators who have been affected by the floods with many who are currently isolated and unsure of when they can get supplies in. In addition, power outages may cause loss of food stocks for wildlife in care - with more animals coming into care. Should any rehabilitator be in need of assistance please contact your local QWRC representative or the QWRC Chair Annie Saunders (Ph 07 4975 6281) who will do all in their power to get you the assistance required.QWRC is continuing to monitor the flood situation across QLD as it relates to wildlife and wildlife rehabilitators.
A trust fund is set up to receive donations. Donations can be made to the wildlife disaster relief fund by direct deposit to the QWRC Trust Fund account BSB 814-282 and account number 30932248 using your surname as a reference. QWRC will ensure all funds are distributed where they are most needed.
Wildcare Australia Inc is a non-profit organization located in South East Queensland dedicated to the rescue and rehabilitation of native wildlife and then release once fully rehabilitated. Be prepared and if you find wildlife in distress please find comprehensive information on this website on how you can assist the animal in need. The home page of Wildlife Australia also explains several ways for you to help financially during this flood crisis situation. Many wildlife volunteers are directly impacted by the floods as well as the wildlife already in care. Emergency Hotline - 24 hours / 7 days 07 5527 2444.
Donate to Koalas, Pademelons, Gliders, Birds......Who really cares? Go to this page to make donations to Wildcare Australia.