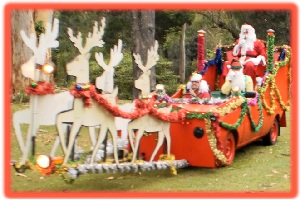 SANTA'S COMING TO BROWNS PLAINS SOON
R.O.T.A. has asked Santa to reshedule his visit to
Sunday 18th December at 10:00am.
He will be giving out gifts to children and his elves and other helpers will be talking with parents about the proposed PARK RIDGE CONNECTOR PRC Motorway.
He is not happy that '292', one of his many community destinations is possibly going to be lost forever and he'll not be able to visit the many children who come here each year to see him.
Address: 292 Browns Plains Road, Browns Plains
Time: Saturday December 10 2011 @ 10:00am postponed
Sunday 18 December - delayed by rain - sorry to disappoint - but mark your calendars to visit Santa
Sunday 18 December from 10 to 12
We also expect to a visit from a large KOALA!
The habitat at 292 Browns Plains Road, Browns Plains is loved by the resident koalas who usually sleep during the day but we expect that one will be keeping company with Santa to talk to all the children. Come along and see why the humans koalas and other wildlife are worried. Santa has bags of gifts for all well behaved children.