Second PUBLIC MEETING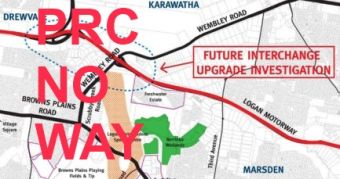 @
LOGAN RESERVE SCHOOL School Rd
PUBLIC PROTEST MEETING - NO PRC
TUESDAY 15 NOVEMBER 2011
7pm
Logan Reserve School in new assembly hall
Contact Karen 3802 2353, Rod 0408 740 144 or Anne 3297 0624 for more details and contributions to meeting.
Come along to add further support to opposing the proposed road. Our united and voiced opposition will stop this project and send government back to the drawing board.
SIGN PETITION TO LOGAN CITY COUNCIL
COLLECT SAMPLE LETTERS TO STATE MINISTERS FOR ROADS AND ENVIRONMENT.
JOIN THE CAMPAIGN TEAM TO STOP THIS PROPOSED TOLLWAY
ADD YOUR SKILLS TO THE CAMPAIGN
Thank you to all the folk who came along and contributed to the process.
We need to show - bu our actions - that process of consultation is flawed.