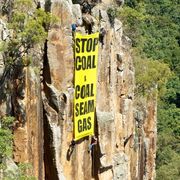 COAL SEAM GAS PROTEST IN THE PADDOCK
BEAUDESERT SUNDAY 16 October
NATIONAL PROTEST DAY - PROTECT OUR WATER
WHERE - 180 - 208 Brisbane St 9 vacant land opposite Beaudesert High School Car parking at Westerman Park and walk to gate from there.
TIME - meet at 10.30 am for 11 am (helicopter flyover time to be confirmed)
LOCK THE GATE SIGNS - can be purchased from video store in Beaudesert near Coles or at the Solar Shop
BANNER - MAKE YOUR OWN - JOIN WITH FRIENDS - MARK OUT LAND WITH LIME
There will be a helicopter flyover to capture the protest for national press.
RSVP - please reply by email to This email address is being protected from spambots. You need JavaScript enabled to view it. if you are hoping to attend this protest site
Click on image to find out who our heroes are hanging the banner from Mt French.
There have been no surveys to determine density and / or health of koalas in Scenic Rim area.
KOALAS NOT COAL!!
COAL AND COAL SEAM GAS INDUSTRY ARE PUBLIC ENEMIES NUMBER ONE WITH REGARD TO HUMAN AND ANIMAL HEALTH AND WELLBEING.