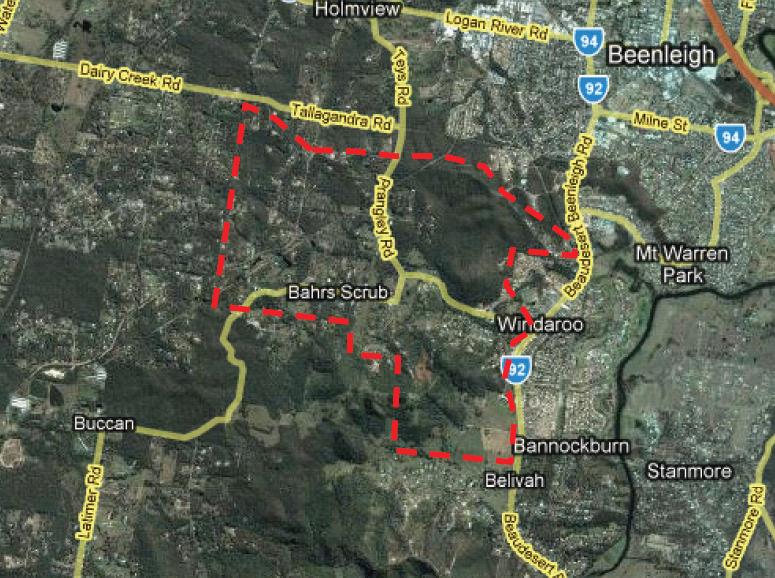 Can we save Bahrs Scrub?
A presentation to Hon Peter Garrett, Minister for Environment, Heritage, and the Arts, with particular reference to the draft National Biodiversity Strategy was made by two of our Bahrs Scrub concerned citizens. The presentation was made by Petrina Maizey and Glen Leiper during the federal community cabinet meeting held at Beenleigh in the Forde electorate.
Bahrs Scrub has unfortunately been shuffled around and between local government areas. This happened when Logan was established as a new city and recently when our state government decided to amalgamate local councils. As a result of this Bahrs Scrub moved from the jurisdiction of the Albert Shire to become an outreach of Gold Coast Shire. Then as a reult of amalgamation this same area is an outreach of Logan City Council.
Bahrs Scrub has always been on the outskirts of the local authority boundary. Gecko - Gold Coast and Hinterland Environment Council has been actively engaged in monitoring and protecting this area and working with Gold Coast city council for many years. The area nows falls within the catchment of LACA - Logan and Albert Conservation Association as we endeavour to work with Logan City Council to achieve, we hope, best long term environmental outcomes.
Why the urgent need for this presentation and our 'campaign'?
Logan City has been targeted as an area for future development by state govenment's SEQRP or South East Queensland Regional Plan. People are rushing to SEQ and councils have been directed by state government to provide 'affordable housing' for these people. In Logan there are 8 such areas - all of which require Local Area Plans and innumerable manhours - funded by us to create our future.
This article makes use of the major points presented in the presentation - and will be followed by more. If you are interested in protecting the environmental values present in Bahrs Scrub Precinct and would like to be involved please contact us at bahrsscrub at laca.org.au or use the form on the contact page.
The purpose of making the presentation to Hon Peter Garrett was

To illustrate the constraints of the urban context which contribute to biodiversity loss

To request Commonwealth intervention in achieving urgent and significant expansion of the Bahrs Scrub Conservation Park and establishment of linkage areas