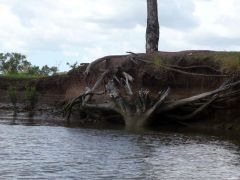 Following the release on Wednesday November 20 of the Healthy Waterways Ecosystem Health Report, in which the Albert and Logan Rivers each received fails for the second year in a row, general agreement has emerged within LACA and among other conservation groups across the region that the situation for this river/bay system is now critical and requires urgent new attention, NOT business as usual.
Continuation alone of the strategies put in place by SEQ Catchments and Healthy Waterways and responsible NRMs clearly will not provide the genuine on the ground, full system solutions that are now desperately needed. Their strategies, while clearly aimed at long term outcomes, have nevertheless been in place for ten years during which the rivers and bay areas in SE Qld have steadily declined, with the Logan/Albert/Southern Bay the worst performing system in SE Qld. We need to complement (or replace as necessary) the existing strategies with new whole-of-system initiatives over the next decade.
The need for a 'Crisis Summit'
LACA members and others have expressed the view that urgent action is needed at a government/legislative level. To explore this and hopefully arrive at a collective decision, a 'crisis summit' on the rivers and bay has been proposed, to be held possibly in February 2011. As a 'summit' this will differ from the Logan City Council proposal for a 'forum'. While a 'forum' usually involves open community access and input of ideas ending in a summary report, a 'summit' involves the key players and decision makers in a process of dialogue and collective decision making for action. However, the summit could take on board the information that might flow out of an earlier 'forum', so the two proposals are not necessarily mutually exclusive.
This issue encompasses the whole catchment area of the Logan and Albert Rivers, and as such includes the impacts on the system of major new development proposals including those at Flagstone, Yarrabilba, Bahrs Scrub and Bromelton. Accordingly, a 'crisis summit' would involve key decision makers from Federal, State and local government, landholders groups, Agforce, conservation groups, developers in the region, river based industry groups such as prawn farmers, tourism and amateur and professional fishing organisations. The starting point for the crisis summit should be the collective understanding that there is a 'crisis' in this system and that genuine new actions, possibly involving legislation, are needed in order to prevent the ecological and physical collapse of the river/bay system.