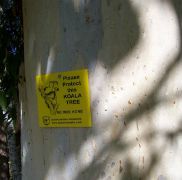 Deborah Tabart OAM, CEO of Australian Koala Foundation will spend the morning of Save the Koala Day, this Friday 28 September visiting Ms Barbara Robinson, a local Berrinba resident concerned about the potential loss of Koala habitat around her property - as a result of a new road.
Ms Robinson will be presented with a Koala Habitat Atlas Map of her surrounding area. Deborah believes the map will justify Ms Robinson's argument in her bid to not only protect her personal property from fragmentation but to protect the immense amount of Koala habitat in surrounding areas which are under considerable threat from powerlines and urban expansion. Ms. Tabart – The Koala Woman – says this is a classic example of where Government maps are wrong and the developers are just allowed to bulldoze their way though sensitive habitats.
"Government maps say the land is not worth protecting, but I challenge Minister for the Environment; Andrew Powell, to show me why this road should go ahead" said Ms. Tabart.
Read AKF media release here.

save_the_koala_day_deborahs_footsteps26-09-2012.pdf
Read more about Deborah Tabart – The Koala Woman
Sign on tree above indicates that this particular tree is favoured by resident koalas and is marked by scats and tracks ie koala poo under and many scratch marks on tree trunk. Book Tracks, Scats and Other Traces is an indispensable tool for bushwalkers, naturalists, students, zoologists, and anyone wanting a better understanding of Australia's unique mammal fauna. Details here.
Protecting and preserving our habitats and ecosystems is essential to the survival of all wildlife. Every acre left unexploited safeguards wildlife that desperately needs our help to survive. The role of private lands has now become an integral part of the solution, and private landholders with a concern for wildlife and habitat protection are in the unique and important position to make a very real contribution to conservation efforts across the country. Read more about donating your land here.
It is unfortunate that planning for Logan and South East Queensland has happened - and is still happening - before sufficient data is known about biodiversity values. What is worse is that an imaginary line drawn on a map such as in SEQ Reginal Plan 2009-2031 and Connecting SEQ 2031 could lead to such extreme fragmentation of the landscape sliced and diced by roads without provision for wildlife that local extinction of many species will be inevitable.
LACA is a member of the Great Eastern Ranges Initiative a landscape-scale conservation corridor that stretches from the Grampians in Victoria to far north Queensland.