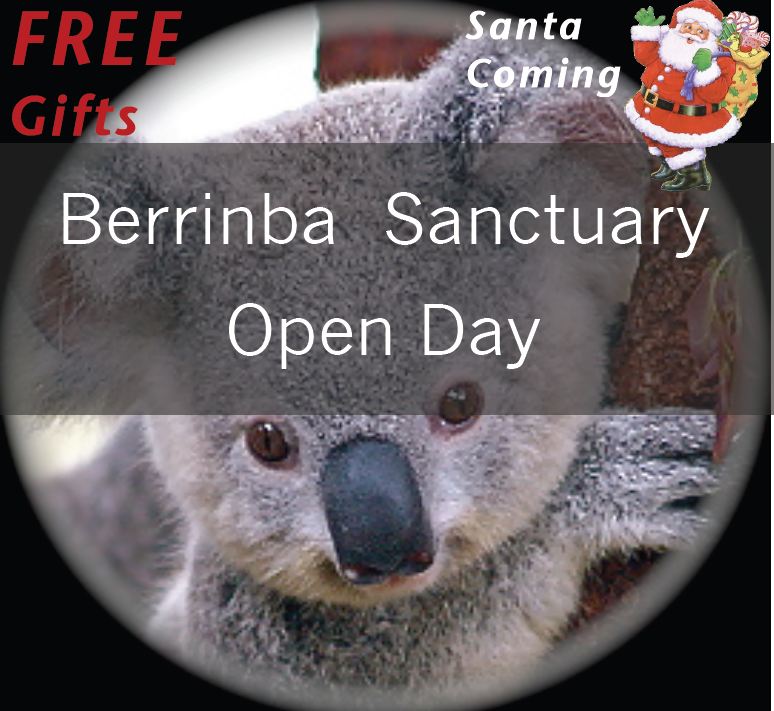 Logan's Berrimba Sanctuary - 90 hectares of pristine koala habitat - makes it's
official opening
Saturday 15 December from 1.00 pm to 4.00pm
You and your friends and family are invited to come along and join the celebrations.
Free entry. Free parking. Santa's free gifts for every child.
Opportunity to join FRIENDS OF BERRINBA SANCTUARY, the KOALA ARMY with AKF Australian Koala Foundation and hopefully - yet to be confirmed - register for training as volunteer for Logan's new WILDLIFE AMBULANCE administered through RSPCA.
See flyer here. Berrinba_Sanctuary_Open_Day_Flyer.pdf
FUN, FOOD, WILDLIFE Display, including captive bred QUOLL, singing featuring Lauren Lee Innis-Youren, speakers, raffles and opportunity to win family pass to Movieworld.
And the best ever Xmas present would be to see a resident koala taking
his or her daytime nap high up in a nearby tree.
While this is not guaranteed it is possible as current family members and sanctuary stewards see koalas on a regugular basis. 6 were seen and reported during the recent weekend koala survey.
Displays / information /speakers from Berrimba Sanctuary, registered with HSI Human Society International, Logan and Albert Conservation Association LACA, Brisbane Region Environment Council, BREC, B.I.R.O, education and care group for all birds injured rehabitated and orphaned based in Logan, Save Bahrs Scrub Alliance SBSA, and others to be confirmed.