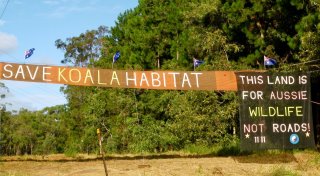 Full details of all candidates are available from Electoral Commission Queensland website here. For your convenience LACA has created this document

LCC_Elections_2012_CANDIDATES.pdf
The divisions of 4, 7, 9 and 11 have large areas of undeveloped busland which are home to many native animals and remnant bushland with significant plant species. Division 9 seat is not contested. Division 8 is also not contested. It is home also to some large acreage - see image - which will be destroyed should PARK RIDGE CONNECTOR be approved by the new state government.
Logan Country Chamber of Commerce have arranged a meet the candidate night at PUB LANE TAVERN for Wednesday 18 April 2012 for Disision 11 candidates.
This was to have been our LACA JIMBOOMBA MEETING night. However the exec have decided to forgo that meeting to allow residents to access which candidate they will vote for. LACA exec members will be at the Pub Lane Tavern forum.
Think carefully what you value about living in a rural residential area and access how each candidate will take your voice to council. All councillors have opportunity to vote on all issues [unless there is a conflict of interests]. It is important that those who become a Chair of Committee are willing to listen to residents from all areas and it is also important that councillors are familiar with all areas and divsions across Logan City - a challenge for some who live in suburban built up areas.
In our choices we should be looking to the future. How will who we vote for and what we ask impact on the future. LACA is not anti development per se but continuing as we have done in the past will not provide safe healthy environment for our children - or native species.
The multitude of roads being planned is scary. Council is unable to maintain what we have, how can we build more? If we continue to make no provision for safe wildlife movements - will we have any wildlife left? Already with the road maintenance and closures altering traffic wildlife carers are reporting more road trauma and death.
LACA is working with the NO PRC group to have Logan Council's decision to support this gateway extension tollway / mororway overturned. What candidates will assist us with this - understand the environmental consequences. You can follow group on Facebook as well.
We will hold our Beaudesert meeting as usual - see calendar. If you have any LOGAN issues you want to discuss please contact us - see contact page.
All are welcome to attend either or both monthly meetings and raise any issue that relates to any aspect of environmental protection and education.