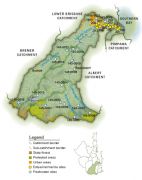 SEQ environment groups warn of the looming threat to Moreton Bay from the sheer scale of proposed urban development throughout the region. Over a decades worth of achievements could be undone if the massive new unsustainable urban development throughout SEQ is allowed to occur with out having to fully consider and put in place measures to avoid impacts to waterways.
Large-scale catchment wide rehabilitation projects and the adoption of world's best development standards in the vicinity of one billion dollars needs to be invested to repair catchment degradation throughout the region; otherwise the ecological health of Moreton Bay is likely to continue to decline overtime.
Another F for fail for the Logan River Estuary surely should mean that all levels of government should be aware of the damage our present human activites is causing and business as usual - despite the rhetoric - will not reverse the degradation.The southern Moreton Bay Ramsar site is also in poor health.
'The 2010 report card shows the condition of the Albert and Logan estuaries remain in poor condition, despite over ten years of hard work to improve their ecological health. The poor estuary health is caused by high nutrient and sediment levels, which is continued to be caused by existing inappropriate urban and industrial development throughout the catchment. Impacts to waterways are set to escalate if a business as usual approach is taken to the massive urban development planned for our part of the region.
When will the political will change to work towards a healthy catchment and ecosystem whose value for longterm human survival is essential. Without a healthy ecosystem [planet] we will not have a healthy sustainable lifestyle.
Queensland Conservation Association released their comment in this media release.
QCC_healthywaterwaysreportcard20oct.doc Bytes 01/01/1970, 10:00