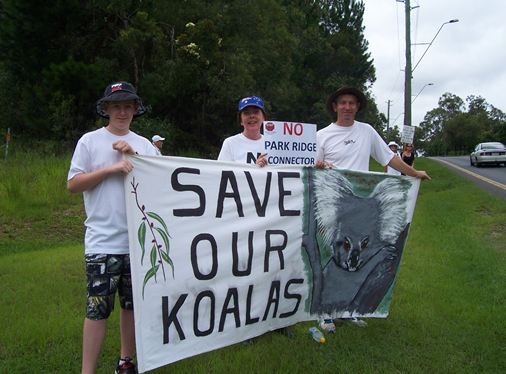 COUNT KOALAS 20-21 October 2012
Do you have some time to spend in the bush this weekend. Join community members out looking for koalas. There is little as thrilling as seeing a koala in a bushland setting behaving as a koala.
If you looking during the day then probably most koalas will be sleeping - high up, in any tree.
Council asks What is Council Doing? but although Council would have us believe it intends to protect koala habitat and that Council has secured large areas of bushland where koalas are common, and vegetation protection and appropriate land zonings are in place to protect those areas, this is not the perception of those of us who monitor / watch Council's development plans. There have been no studies / research in the amalgamated areas and even large bushland properties in private ownership. More about that in other articles.
REPORTING ALL YOUR WILDLIFE SIGHTINGS IS IMPORTANT BUT ESPECIALLY KOALAS THIS WEEKEND. Council has an online reporting form for you to use which you locate at this link.
If you prefer you can phone 3820 1103 between 8am and 5pm to report your sightings or even if you identify the koala by its distinctive sound. Listen to a recording of a male koala bellow here. Logan and Albert Consevation Association president Anne Page will be one of volunteers manning the phones and she would love to hear from you.
Check out map council has provided here. Here we can see a smattering of red dots for recorded sightings across all suburbs. Longterm survival of these koalas depend on - at a minimum - connectivty and preservation of wildlife corridors - established by animal movements, green infrastructure being included in any roads, driving alertly, and improved control of our domestic animals especially dogs