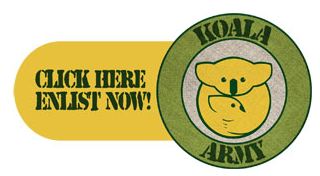 The KOALA ARMY NEEDS US ALL. ENLISTING is easy.
Support this action from Australian Koala Foundation. Go to the following linked page https://www.savethekoala.com/koala-army/send-letter and using information provided there, send a letter to your politicians. Phone them also for extra emphasis. Spread the word with your friends and family. Let them know you are joining the Koala Army to ask for a Koala Protection Act. This is especially inportant as our current legislation and policies have failed and will continue to fail to protect the koala's essential habitat.
It is particularly worrying that big business has had the government's ear and through COAG there are plans to give the EPBC Act 'powers' to state governments.
You might also like to go to the koala army shop to purchase a dog tag or army tee shirt?