Myrtle rust - gum trees and koalas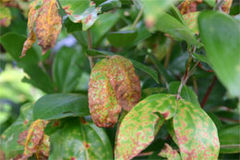 Biosecurity Queensland (BQ) is leading the response to myrtle rust by working with industry to restrict trade of infected plants; track distribution and range of host species; and provide advice on minimising its impact. DERM is working with BQ to prevent the disease's avoidable spread. Myrtle rust was first found in Queensland in December 2010. Since then, it has been found in four national parks—Kondalilla in the Sunshine Coast hinterland and Nicoll Scrub, Springbrook and Lamington in the Gold Coast hinterland.
While there is no known threat to people, individuals can help reduce the spread. Since this highly infectious fungal disease affects the main food source for koalas, it would be naive to minimise the impacts this plant disease may have on the long term survival of the koala. Another threat to contend with.
The Myrtaceae family includes many Australian native species, such as lilly pillies, water-gums, paperbarks, turpentines and eucalypts. When severely infected, young plants and new growth may become stunted and, possibly, die. Read more at DERM website.