Have your say - until 12 June 2013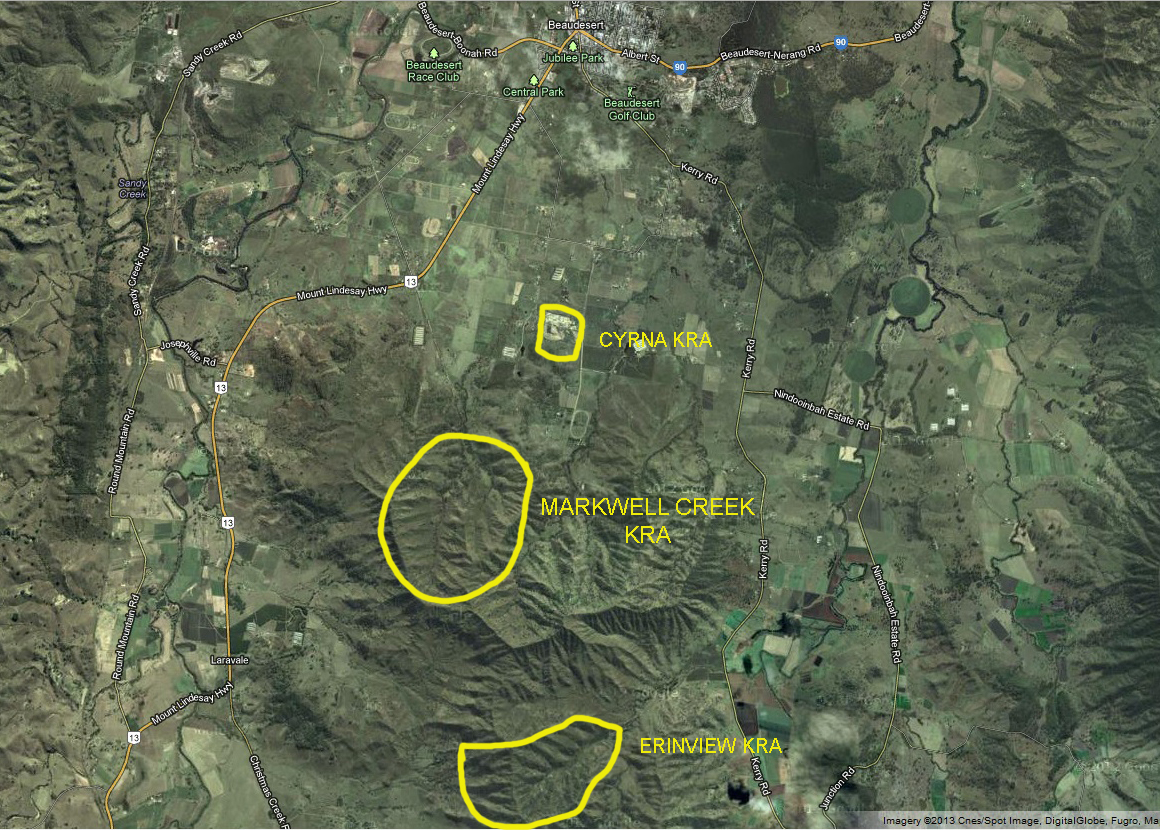 Local governments, the community and other stakeholders are encouraged to have their say on the draft State Planning Policy (SPP) prior to it being finalised later this year.
65 pages of important reading if you care about the
future of SEQ - and Queensland
KRAs are just one 'policy' to be included in SINGLE POLICY to
replace many!
The Kerry Quarry - SRRC rejected in 2012 - has been proposed as the Erin View Key Resource Area ( KRA 140) in addition to several other quarry KRAs for the SRRC and Logan City council areas, including: Markwell Creek Rd KRA 142, Cryna KRA 139, Yore Road KRA 143 ( 3 km south of Clutha Creek KRA), Kangaroo Mountain KRA 141 ( north of Aratuala in habitat containing at least 3 essential habitat factors for the koala). See attached map of 3 KRAs of Erin View, Markwell Creek and Cryna.
If an area is set aside as a KRA it
- does not give automatic approval rights
- it recognises a state or regional resource
-it may limit or restrict what neighbouring property owners can do on their land ( eg in separation zones and buffers around the KRA itself and transport corridors)
- does not take into account amenity impacts or transport impacts that may occur from the designation of a KRA
- the KRAs should have had significant biodiversity, ecological, conservation, cultural heritage and indigenous values assessed as part of the process for defining the boundaries of a KRA - has this been done? Not in the original MCU application for Kerry Quarry.
Concerns already raised by the Kerry community about the proposed Erin View and Markwell KRAs include -
1. SRRC previously received over 1000 objections from the community for the Kerry Quarry - this MCU ( Material change of Use ) was not approved by SRRC in 2011/12.
The community is asking for SRRC to continue to support community and to
say no to this state government draft.

2. Residents and QAG Quarry Action Group have approached some SRRC councillors - the councillors are saying this is not a local government matter , but a state govt matter. If this is designated a KRA, then SRRC will be responsible for placing conditions on the development. Previous experience with Cryna and Clutha Creek Sands Quarries, is that councils do not follow up conditions, or the applicant can apply for reduced conditions. This has been the case with Cryna Quarry.
3. SRRC will be putting in their own submission - local SRRC councillors have said if Kerry Quarry had been a Key Resource Area, the quarry would have been approved last year
4. Transport and haulage routes and impacts on local roads and Beaudesert Township
5. One haulage route being proposed via Markwell Creek with topography that is not suited to truck haulage ( see map attached of KRAs with spearation areas and trans routes)
6. Impact on tourist area (e.g. Kerry) but other areas of Beaudesert may be affected as well
7. Ecological assessment for Kerry Quarry MCU ( Material change of Use) was never done
8. Cultural heritage assessment was never done for Kerry Quarry MCU
9. Concerns that other quarries proposed and extent of area proposed has not been revealed to rest of community
10. Community not advised by SRRC that this was taking place, despite SRRC knowing that the community clearly opposed the Kerry Quarry proposal
Further information coming soon