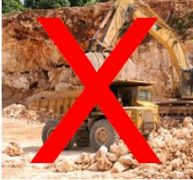 Quarry Action Group - Cryna quarry expansion
Friday 4 November is the last day to object to the expansion of the Cryna quarry. Linked letter may help you with the formalities of lodging your objection. List the reasons that concern you in your objection.
If you live south of Beaudesert and travel on the Mt Lindesay Highway you will share the road with all of the quarry traffic. If your children or grandchildren go to St Mary's they will be affected by the increased traffic. Much of the extra heavy vehicle traffic generated will disperse northbound so Beaudesert and other little towns in the area will all have an increase in traffic. The many objections to the Mega Quarry proposed in Kerry Valley are also applicable.
Download a letter template you can adapt to express your concerns here.
Cryna_Quarry_Objection_sample.doc 62.50 Kb 30/10/2011, 16:59
Please also visit group website here where you can read aome amazing breaking news which we believe should establish a president for quarry traffic on roads. http://www.quarryactiongroup.org.au/files/CourtDecision.pdf and http://www.quarryactiongroup.org.au/files/SRRCLetter.pdf
A Quarry Action Group traffic study was very scathing of the developers assessment as the developer's report used old traffic data and gave little attention to improving the road to makeit safe for this level of traffic. A full copy of the traffic study can be found by clicking this link. http://www.quarryactiongroup.org.au/files/TrafficStudy.pdf