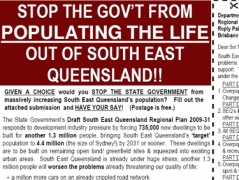 An alliance of environmental and community groups wants South-East Queensland residents to demand the State Government stop destroying the region's environment and quality of life with huge population increases.
This SEQ regional plan submission coupon has appeared in SEQ newspapers. You can clip and send the coupon too.  
 news-seqrp2-clipandsend1.pdf 90.87 Kb 29/03/2009, 17:43
Under the State Government's Draft SEQ Regional Plan 2009-31, the population of the region would swell by another 1.3 million people within 20 years - to the same size as Sydney.
'This massive planned increase in population will condemn SEQ to an ever-worsening quality of life and eliminate any chance we might have of living sustainably,' said Simon Baltais, spokesperson for the alliance of groups that includes the Wildlife Preservation Society of Queensland, Sustainable Population Australia, the Nerang Community Association, Queensland Conservation Council, ( LACA is a member of QCC). Sunshine Coast Environment Council, Gold Coast & Hinterland Environment Council (Gecko) and the Community Alliance for Responsible Planning (CARP) Redlands.
'The numbers proposed under the draft plan will bring SEQ's total population to 4.4 million,' Mr Baltais said. 'This draft plan will push another 750,000 dwellings into existing urban areas and wildlife-friendly greenfield sites.
Queenslanders have until Friday 3 April to respond to the Draft SEQ Regional Plan 2009-2031.
Some groups eg GECKO have written to the new Ministers: Minister for Infrastructure and Planning The Honourable Stirling Hinchliffe and Minister for Climate Change and Sustainability The Honourable Kate Jones to request an extension and delay of the implementation of the Plan until  some issues have been resolved -
The policies and procedures upon which the Plan is based have had full community consultation and adoption;


The provisions in the draft have been rewritten in keeping with the latest science of climate change and knowledge about the biodiversity significance of South East Queensland;


The draft has been fully analysed in comparison with the State of the Region Report for its potential impacts on sustainability indicators;


The community has had the opportunity to examine several options for the future as is best practice for community consultation on regional planning.
Read Gecko's letter here. 
 gecko_request_seqrp_rewrite.doc 43.00 Kb 31/03/2009, 19:16
You could base your own letter on this example.