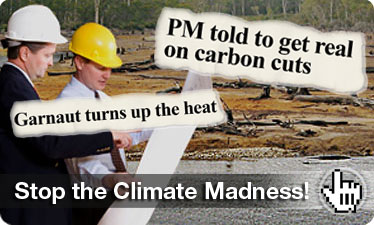 Dear friends,
You may have missed it, but the Tasmanian Government last week unbelievably signed an agreement handing over Tasmania's forests to the Gunns pulp mill for the next 20 years - in the very same week Professor Garnaut warned them of the dire climate change consequences facing us.
If we don't act now, bulldozers will start clearing land for the mill that will contribute 2% of Australia's greenhouse emissions - at a time when we're being told we need to drastically cut our emissions. But unfortunately Australia's forests were largely left out of Garnaut's recent interim report.
We have only one opportunity to put them in the picture. A proper assessment in his impending Climate Change Report of our native forests' climate change value may just sink the mill project. Click here now to sign the petition asking Professor Garnaut to examine the full climate impact of this mill madness and the logging of Tasmania's native forests.