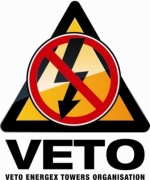 Biosecurity Queensland classes camphor laurel as a Class 3 weed - meaning it cannot be sold and should be removed because it is capable of replacing native trees and disrupting power facilities.
Yet changing the proposed route of the proposed line to protect such a tree this is the only request that ENERGEX staff are accepting. This story appears in the ALBERT AND LOGAN TIMES Wednesday, 11 March 2009 which you can read here 
 030911_energex_save_weed.pdf 181.23 Kb 11/03/2009, 12:45
VETO had a public rally 2pm Saturday 14 March at Logan Village Green.
Visit their website www.veto.org.au to find out how you can help this campaign to protect the iconic Logan River.
Contact spokesperson Marie Slingsby for further information.