ULDA is coming to Greenbank 9 March 2011
Why don't we all wear GREEN shirts for the meeting on 9th March to show the ULDA that we are a UNITED community standing as ONE?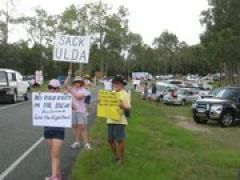 This is a real indication of PEOPLE POWER and the hard yards being covered by the community and team leading.
Previously ULDA were unwilling to meet with the community - we have persuaded them to come and listen to us.
WE MUST ENSURE THEY TAKE COPIOUS NOTES - IF NOT THEY ARE NOT LISTENING!
Join FACEBOOK support the campaign and meet other locals
Contacting our political representatives in all levels of government - local state and federal - is important.
Their contact details are here at http://www.savegreenbank.com.au/page1.php
MASCOT Tevvy is still advertising acreage living and space?
See you at the meetings. Well done team!