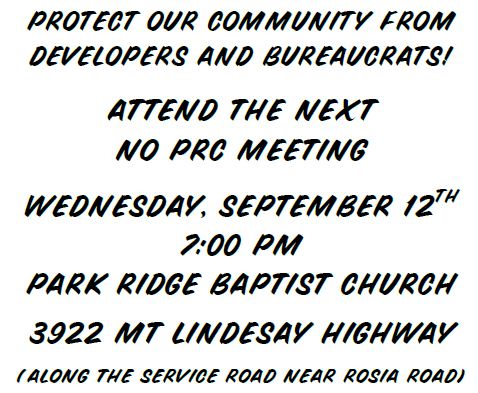 Exactly when where and how Main Roads will be holding an event called consultation for Park Ridge Connector Corridor is to be discovered - hopefully announced and widely publicised. The members of NO PRC community group have made efforts to understand where we are at with this process. However it remains clouded in confusion. There is supposed to be a report given to Logan City Council. We have asked for the name of the report - but as yet that remains a mystery.
CLICK ON IMAGE TO LEFT FOR FLYER.
LACA has received a letter - following our phone calls that states that DTMR is currently conducting an extensive consultation strategy to gain feedback from the community on the proposed PRC corridor location. President of LACA is offered an opportunity to provide feedback on the proposed corridor location.
It should be noted at this stage the department is aiming to collect feedback on the corridor location only. Technical aspects of any future road location such as environmental or social impacts will be consulted on during a future consultation phase.
It would seem that a decision has been made by LNP government minister Scott Emerson to approve a corridor? Though he said he has "signed off on nothing".There are certainly no ministerial statements about a decision - or any public acknowledgement of the fiasco and disquiet among property owners and community created by registered letters being sent - and retracted in some cases - by DTMR.
With staffing reductions new updates to TRM website for projects - this one at least - are delayed. Watch for changes to http://www.tmr.qld.gov.au/Projects/Name/P/Park-Ridge-Connector.aspx
Your participation in this community meeting and the "consultation" process it critical to the future welling of both community and natural environment.
YOUR VOICE in PLANNING FOR THE FUTURE is needed.
See you at the community meeting.
COPY of flyer for 12 September meeting
http://www.noprc.org/Flyers/2012_09_12_Community_Meeting.pdf
According to staff person from Logan LNP member Mr Michael Pucci's office this morning, the feedback form is on DTMR website. However as of 29 August the form is not yet available online. Does this mean we can complete online?
How long will we have to provide feedback? No timeline is provided yet. When will "extensive community consultation" end? When will it start?! Ask your questions - phone the planning team 1800 799 824 email This email address is being protected from spambots. You need JavaScript enabled to view it.
LETS HOPE THE CONSULTATION IMPROVES. The NO PRC group will have the latest available information at the meeting 12 September 2012.
Social media has just provided some useful information via FACEBOOK page for Michael Pucci MP Member for Logan . ....This consultation process, which has been endorsed by the Minister for Transport and Main Roads, the Honourable Scott Emerson MP, opens the opportunity to everyone who wishes to participate to provide feedback on the proposed corridor location of the Park Ridge Connector....
If there is a proposed corridor location, has the minister really "signed off on nothing"?