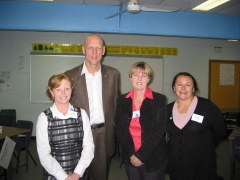 Ten minutes is not a long time but Anne Page in a 10 minute interview with Federal MP Peter Garrett with Maree and Laurie from Veto (the group fighting the Loganlea to Jimboomba Energex powerline along the Logan River) painted the big picture. The topic they spoke about was in relation to protecting ecological corridors from infrastructure  and they used the examples of the Loganlea to Jimboomba Energex proposal and the Mt Lindesay Highway upgrade. Although these are state issues they managed to link this to federal issues e.g. current federal funding push to provide infrastructure for recovery from the current financial crisis, the need for increased investment in renewable energy options, protecting biodiversity (recent community consultation closed on the Australian Biodiversity Strategy), and the need for an integrated approach to planning across all levels of government. 
Mr Garrett was given a document that included maps from SEQRP and local planning and he did say that he knew about the SEQRP, so that's a start. 10 minutes went no where of course.The brief given to Mr Garrett did refer to the Bromelton rail corridor but they did not get to speak about this.
MORE than 400 people jammed in to the school hall at Beenleigh State High School on Tuesday night as Prime Minister Kevin Rudd, in his second visit to the area since the 2007 election, hosted his fourth Federal Community Cabinet meeting for the year.
Students, community group representatives, business people and council and state politicians were part of the crowd which erupted in to applause when the Prime Minister entered the hall to join the 20-strong contingent of cabinet ministers also on hand.
The Prime Minister, introduced by Federal Member for Forde Brett Raguse, delivered a 20 minute address before fielding questions from the floor for an hour.
During the address he highlighted the government's economic focus on "nation building'' through billion dollar infrastructure projects and the effects in areas like Beenleigh.
Well done! L-R:  Laurie Koranski, Peter Garrett,  Anne Page,  Maree Slingsby.