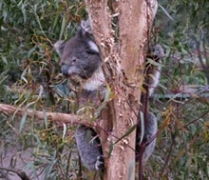 IMPLEMENTATION OF NEW KOALA PLANNING INSTRUMENTS DEFERRED
Australian Koala Foundation said recently that Queensland government's new planning laws to protect dwindling koala numbers in the state's southeast are laughable. Although Climate Change and Sustainability Minister Kate Jones announced a raft of new measures to protect the marsupials' habitats - what is proposed is not enough. For years concerned citizens campaigning to raise awareness of the plight of the koala and protect them by protecting and preserving the essential habitat with an easy to remember slogan  -  NO TREE NO ME.
MAPPING has placed a triangle-shaped patch of zero-development koala protection area directly over that same patch developers have planned as the central heart of the town centre.
Further to a letter from the Director-General which was circulated  to  members (of UDIA Qld) on Wednesday, the Government has now deferred the implementation of koala planning controls to replace the interim controls until 28 February 2010 and they will not come into effect as at 1st January as previously  proposed.  Further opportunity for consultation on proposed changes and  a  draft State Planning Policy is being provided. The UDIA (Qld) is  engaging  with the Government and a forum will be held in the new year to  discuss  practical implementation issues associated with the draft  instruments.
Gold Coast Bulletin, Friday 11 December 2009, page 3  "States koala chaos on map"