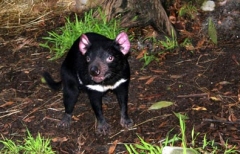 International environmental news sources report that  Australia's Tasmanian Devil, its population decimated by a facial cancer, was listed as an endangered species on Wednesday by the Tasmanian state government 21 May 2009. msncb.msn.com shows a picture taken on January 13, 2009 of a healthy Tasmanian devil joey (Sarcophilus harrisii) displayed as part of an intensive conservation programme, because of the spread of an infectious facial tumour which gradually disfigures the animal's face to the point it is unable to eat, at Taronga Zoo in Sydney.
Australia's Tasmanian devil is the world's largest surviving marsupial carnivore. This increased risk of extinction status change means that more resources and measures will / can be allocated for greater protection and recovery strategies. Numbers have declined by 70 percent since cancer was first reported in '96.
The deadly and disfiguring facial cancer, which often kills within months, has cut the island state's wild devil population by as much as 60 percent. The Tasmanian Devil faces extinction in 10 to 20 years due to the facial cancer.
"We are committed to finding an answer and saving the Tasmanian Devil for Tasmanians and the world," Tasmanian Primary Industries Minister David Llewellyn said in a statement announcing the change in status from vulnerable to endangered.
The Tasmanian Devil is a carnivorous marsupial about the size of a small muscular dog. It has black fur, gives off a skunk-like odour when stressed, and earns its devil name for its ferocious temperament and disturbing call. The facial cancer is genetically identical in every animal and originated from a single contagious cell line and spread throughout the population by biting during fights for food and mates.
"We are developing and implementing an insurance strategy which has established captive populations around the country, implementing wild management trials to attempt to secure wild populations," said Llewellyn.
Llewellyn said he was encouraged by the fact that some devils from western Tasmania had developed antibodies to facial tumor.
"While it is still very early days, discoveries such as this provide hope that the disease may be managed in the longer term and that devils with genetic diversity will survive it," he said.
 The story with more links can be read here at msnbc.msn.com