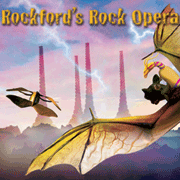 Rockford's Rock Opera is an original ecological musical story for children and adults which addresses the most serious environmental issues in a uniquely entertaining and yet thoughtful manner. And it's proving a huge hit around the world. Scripted by BBC comedian Steve Punt, and with music by Sweetapple, it tells the story of the Island of Infinity - home to all the world's extinct creatures.
Rockford's Rock Opera is an amazing adventure in sound for adults and children. Part One of the story (six chapters: 52 minutes) is free! It features narration, read along text, characters, sound effects and music and is available as a free mp3 download and an audio stream.
Great to listen to on your computer, your ipod or burnt onto CD, this is a free audiobook like no other. The website also contains useful background information about the story (including key information and free downloadable teaching resources about extinction and ecology), how the story was made and the facts behind the fiction.
Visit the website by clicking on link to the left to access free book and lots of other resources, perhaps even buy some products. WWF is supported by this group.