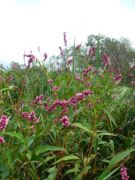 Cornubia wetlands is being cared for by a local Logan bushcare group under the leadership of LACA member Barry Fitzpatrick. He has developed a website.
That community group are playing an integral role in helping to maintain a healthy benthic plankton in wetlands - by not creating sediment, runoff of garden fertilisers etc
To follow the progress of the protection of this unique wetland area explore the site and images here.
The health of wetland areas contributes to the health of our river systems. Cornubia is a very heathy ecosytem with Nature's natural processes being in balance.
Our Logan River does not have a healthy report card having failed the 2009 Healthy Waterways reporting process. This is a situation where all levels of government should be concerned - and being pro-active. The huge burden of population growth will futher degrade the river - unless better processes are mandated and funded.