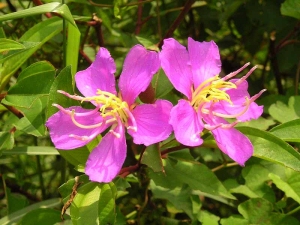 250 tube stock of native understorey plants were planted at Kingston College Thursday 16 October 2008.  Some Brisbane office staff  from Pricewaterhouse Coopers spent the day at Kingston College getting down and dirty with the students. This is part of their partnership with the school and also their usual one work day per year given to a volunteer community group.
The importance of this activity was highlighted to students when both local and state government sitting members Cr Graham Able and MP Desley Scott each took time out of their schedule to help plant some trees.
The selection of well mulched and waterwise grasses and flowering shrubs will help both to restore the understorey for a range of native animal species and reduce erosion on the hillside. A gallery of pictures will be posted here soon with futher information. 
 The plant above, melastoma affine, is just one of the species planted. The students and volunteers did a fantastic job - and also had fun. Thanks to all concerned for supporting this LACA initiated  and federally funded Community Water Grant project.