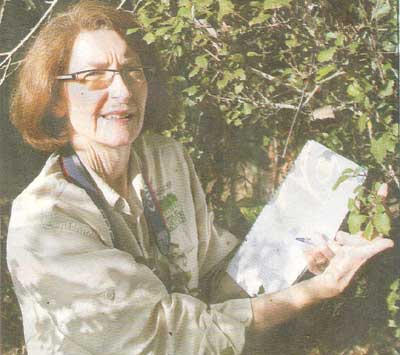 Jimboomba Times reporter recently visited and spoke with Logan and Albert Conservation Association Project Officer Carla Parker on site at Cedar Vale where some precious remnants remain. A copy of the newspaper story follows.
PROTECTION FOR SCRUB
A FRAGILE ecosystem based around endangered dry vine scrub species has attracted a Logan City Council grant to help protect the remaining pockets of scrub. The Logan and Albert Conservation Association was awarded $5000 to produce a colour brochure containing information on how to identify and protect the scrub.
Project coordinator Carla Parker said there was very little of the scrub left, although small patches could be found in Cedar Vale, Veresdale and surrounding areas.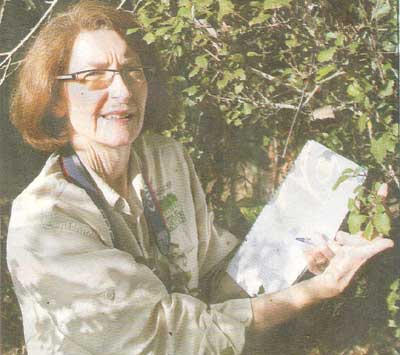 "With development, that's eliminated a lot, as you can imagine, but there is still little patches of it left and we'd love people to recognise that and to try and preserve what we've got, because once it's gone, you can't get it back," Ms Parker said.
She said the brochure would help people who may have the scrub on their property, but did not recognise it or know what to do about it.
"The project is about informing, educating the community about what we have here, and to recognise it, protect it and encourage it," Ms Parker said.
"In this brochure we will be suggesting how to manage, to assist our wildlife, because they have to be sustained by what native vegetation we leave.
"We'll be giving people suggestions on wildlife friendly fencing, for example."
A late 2005 Beaudesert Shire Council report noted the Veresdale scrub originally covered about 7000ha from Cedar Vale to Waters Creek but only 4ha, or 0.06 per cent, remained.
The community services committee report noted the 1.48ha Champney reserve was considered one of the most biologically significant patches of bushland in the shire and contained 74 native plant species including one that was presumed extinct until the 1980s.
Ms Parker said the brochure would be distributed in numerous ways including letterbox drops and through information centres.
"It will encourage the community to manage this environment more sustainably and assist in retaining the natural environment, lifestyle, and amenity of Logan country and contribute to community wellbeing," Ms Parker said.
"If you've got pleasant surroundings - not just bricks and tin roofs - obviously that's got to make you feel better inside."
 Carla Parker identifies plant species at the Champney's dry vine scrub reserve in Cedar Vale.