What does Minister Scott Emerson mean when he said "I've signed off on nothing"?
This statement was spoken in the presence of Mr Pucci, Mr Pucci's assistant Ben and the chief of staff for Mr Emerson and another staff person for Mr Emerson at the meeting attended by LACA President Anne Page and 3 other NO PRC Committee members. They met with Minister for Transport and Main Roads Scott Emerson at Parliament House 11 July for an half hour meeting - reduced to 20 minutes. Logan LNP member Michael Pucci had negotiated this meeting for the group. Although we had received verbal information via different media sources that the minister had approved the corridor the group were hopeful that the LNP government would honour its promise to review previous Labour government processes.
This verbal communication from the department of Transport and Main Roads is ambivalent and inconclusive. It would appear from our rational reasoning that the minister has accepted at face value what Main Roads staff have said that there is a need for a road corridor. The concept of viability has not been examined.
It also appears that the minister has "approved" a corridor of interest as some members of the community have received registered letters - including a map - and information that their property is not directly affected.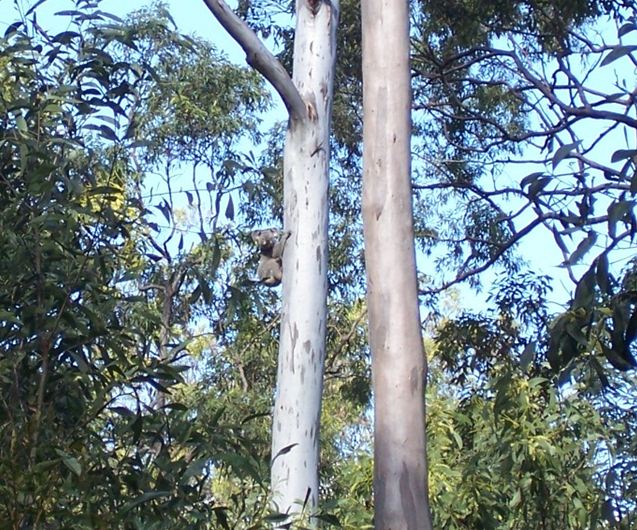 Not sure yet how this resident koala will be considered? This property has regular sightings of koalas.
Will new federal EPBC decision listing koalas as vulnerable "protect" the koala habitat?
The whole question of viability was not resolved at the Community Stakeholders Reference Group CSRG and to date the feedback report that was to have been presented to council for their decision making process has not yet been presented - though a hasty decision was made to approve the corridor.