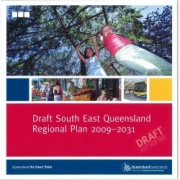 All information collected from valid  submissions will help inform the finalised South East Queensland Regional Plan 2009-2031 - according to submission template provided by Queensland governement website.
How to make your submission count
For the purposes of feedback, a properly made submission must:
? include the name and address of the submitter
? be made in writing, and signed by each person who has made the submission
? respond under the headings of the draft SEQ Regional Plan or draft state planning
regulatory provisions and other matters for consideration.
Information considered confidential should be clearly identified. Please note submissions may be accessed under the Freedom of Information Act 1992.
For your convenience we have converted this document to a Word document so that  you can complete the essential information and ignore those bits you do not wish to comment on.  
 seqrp_submission__cover__form.doc 64.00 Kb 19/03/2009, 14:50
If you have any questions please contact secretary Anne Page. See contact page.