PUBLIC MEETING @ PARK RIDGE PUBLIC MEETING @ PARK RIDGE PUBLIC MEETING @ PARK RIDGE
TUESDAY 8 NOVEMBER 2011
7pm
Park Ridge (Baptist) Church Main Hall
3922 Mt Lindesay Highway Park Ridge 4125
(Take the exit off highway at Park Ridge and follow the eastern service lane for the Mt Lindesay Highway – brick building with car park area provided)
NO LOSS OF BIODIVERSITY IS VIABLE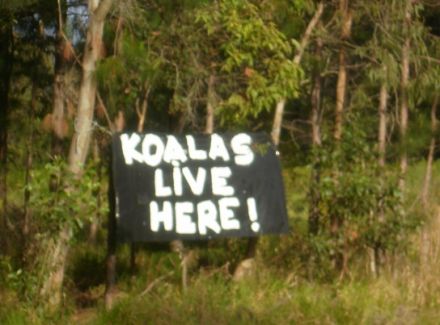 We want koalas not new tollways. We want quolls not more multi-lane roads. Bushland habitat is home to many native wildlife and wetland areas like Jerry's Downfall which is part of Chambers Creek Catchment Area provide critical filtering system for the rivers and creeks of Logan.
Bushlands wetlands and river systems all contribute to those essentials to maintain human life - clean air, clean water and food. Sustainable development, meaning ecologically sustainable, requires that our human settlement - and moving around - does not destroy the natural envionment to introduce more built structures.
COME TO THE PUBLIC MEETING TUESDAY 8 NOVEMBER 2011 @ PARK RIDGE @ 7pm - SAME VENUE PRC INFO SESSIONS
Contact Karen 3802 2353 , Rod 0408 740 144 or Anne 3297 0624 for more details and contributions to meeting.
See STANDING AGAINST HIGHWAY