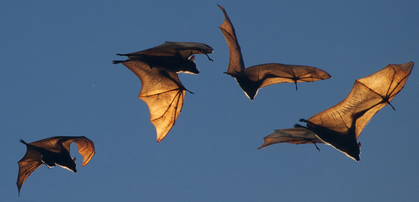 Which wildlife group would endorse government policy to cull Flying Foxes - even as a last resort?
Queensland Bat Advocacy and campaign group Don't Shoot Bats certainly does not. Speaking for the Don't Shoot Bats campaign, Dr Carol Booth condemned the move as retrograde, anti-conservation and cruel and remarked on the irony of releasing the statement on National Threatened Species Day. Grey-headed and Spectacled flying-foxes are listed as vulnerable under national environmental laws.
LACA cannot agree when the Environment Minister says he is taking a 'balanced' approach. Species are listed as threatened when their future is in the balance, so what is balanced about shooting them? There is nothing balanced about sanctioned cruelty.
Great suffering will result from the re-introduction of shooting: it is inevitable that some of those shot will die slowly of their wounds, and young deprived of their mothers will die of thirst or starvation.
Fruit growers have cost-effective alternative methods of crop protection. Most do the right thing and protect their crop by nets and other non-lethal means. It should be expected of all.
Just three months ago the Queensland Agriculture Minister said 'It's important every Queenslander understands animal cruelty is never acceptable.' See his statement here.
Read Shooting threatened flying-foxes legalised on Threatened Species Day media release here.
, Policies and Campaigns Manager, Wildlife Queensland reports that shooting has been demonstrated to be ineffective and Horticultural experts advise that netting is the only effective method to prevent significant economic loss.
"Killing listed species, particularly when population numbers are not known with any certainty, is a major concern. Where will it stop? What will be next?" Read Wildlife Queensland here
You can help by completing online survey and writing to your local council and state representative.
We can also become more informed of issues relating to threatened species.