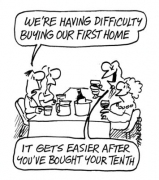 A new survey of 265 housing markets around the world finds Australia has three of the five most unaffordable ones. This includes Sydney at position five, Sunshine Coast and Gold Coast in South East Queensland. Australia's housing price bubble is almost the only one in the world that has not yet burst.
The Demographia International Housing Affordability Survey http://www.demographia.com/dhi.pdf  looked at markets in Australia, Canada, Ireland, New Zealand, the United Kingdom and the United States. It compared median house prices with median household incomes to arrive at a ``median multiple''. An affordable multiple is 3. Sydney came up with a whopping 8.3.

Tanberg's cartoon gives one perspective. The topic is the subject of Sydney Morning Herald blog which states that Australia's housing price bubble is almost the only one in the world that has not yet burst. Read it here. Of course this is a complex issue and one on which we will all have our own opinion. Many comments have been written here. Personally I agree with Termite's view
Firstly, in this arid continent, which only has about 7% arable land, we should quarantine good farming sites from housing development. To build on our best and most accessible farmland is short-sighted. We are doing it all over the country.
ABC news disagrees with findings of the survey. Read Housing affordability not as bad as survey claims: analyst which claim is challenged by some in the comments. To me, Dr Shlomo Angel's report seems to be advocating conservative enthusiastic support for urban sprawl.
Housing for humans without destroying habitat for other species is a challenge all Australians face now. As is having enough food to feed us all.
In South East Queensland, the government identified 42 greenfield areas. These areas are distributed equitably across the region, amongst local governments and developers. The areas do not have specific boundaries or addresses. Rather, they are general localities or 'nodes' where development could occur. As more detailed planning occurs, the boundaries will be refined. The areas are supposed to encroach into the inter-urban breaks of the South East Queensland Regional Plan. 
The Department of Infrastructure and Planning DIP has an extensive complex website. Information about greenfield sites begins here and here. The locations are illustrated in the Delivering the Queensland Housing Affordability Strategy - Greenfield land supply in South East Queensland action plan.
 Draft regional plan 2009-2031 chapters can be downloaded from here.
The draft South East Queensland (SEQ) Regional Plan and the draft state planning regulatory provisions are open for submissions from December 2008 to 3 April 2009.
For details on how to have your say see detailed advice here.