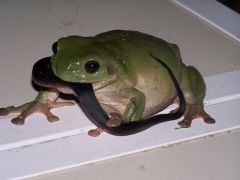 Fascinating and free reptile workshop
Capture your creatures on film after you find them - or they find you!
Brian 'Furry' McLean of Crocodiles and Dragons legend will demonstrate lots of useful information about our local reptile residents so that we can all live together harmoniously.
John McCann – professional wildlife photographer from Nature Pics will provide some secret so we can capture your creatures on film - the only way to catch them.
SATURDAY 6 NOVEMBER 2010
2 – 4.30 pm
CWA Hall Brisbane Street Beaudesert
LACA kindly thanks Scenic Rim Regional Council for funding the workshops through its Community Environmental Assistance Grants Program.
Our local zoologist - ecologist came to our assiatance at the last moment due to unforeseen circumstances. Thank you Ronda Green. Many cameras wer clicking madle as all attendees at our success workshop got very up close camera moments with Furry's creatures which are very used to the public - unlike our shy native animals in their natural habitat.
We hope to post some images soon so stay tuned. The shin of the crocodile is incredibly soft.