Energex Logan River to Jimboomba Protest Rally at Parliament - Thursday 7 October 2010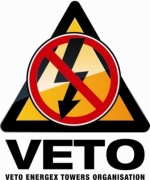 Please consider supporting the action described here and organized by Paul Casbolt on behalf of VETO (Veto Energex Towers Organisation) that is protesting against the upgrade and new easement for a 110 Kv line to cross the Logan River 5 times and run south along Camp Cable Rd.
This proposed route will clear 42.5 hectares of koala habitat which also provides valuable habitat for other threatened species in the area eg quolls, green thighed frog, wallum froglet , glossy black cockatoos and 4 species of gliders (greater, squirrel, sugar, feathertail) that we know about from community surveys.
LACA has been assisting VETO for the past 2 years and has provided formal submissions to all rounds of community consultation (please see the LACA or VETO websites for copies of LACA and VETO submissions outlining major concerns). President Anne Page has attended fortnightly meetings over this time along with many other concerned members from the Logan River and Camp Cable Rd communities.
There are many reasons why the community should be objecting to such projects (see LACA submission ) in our local area and across Queensland. If you are able to attend this peaceful rally please RSVP to Paul ph 3200 5210 (see flyer contacts). There will be a coach bus to pick people up from Logan Village Community Centre at 10 am and will return there around 1.30 pm (cost $8 per person please to cover bus hire) .
The Hon. Margaret Keech has already agreed to meet the group and take receipt of the petition outside Parliament House.
This joint Rally with other Community Groups (also dissatisfied with the Energex process) may be our best chance to influence State Politicians as it is likely that Minister Stephen Robertson will make a decision on the Loganlea to Jimboomba 110kV Sub Transmission Line Community Infrastructure Designation in December.
We hope to get wider media interest and support by joining with the Sunshine Coast group and the STOP group from the Gold Coast.
This will be a civil, peaceful protest and children are welcome as this is for their future (unfortunately Parliament does not sit during school holidays).