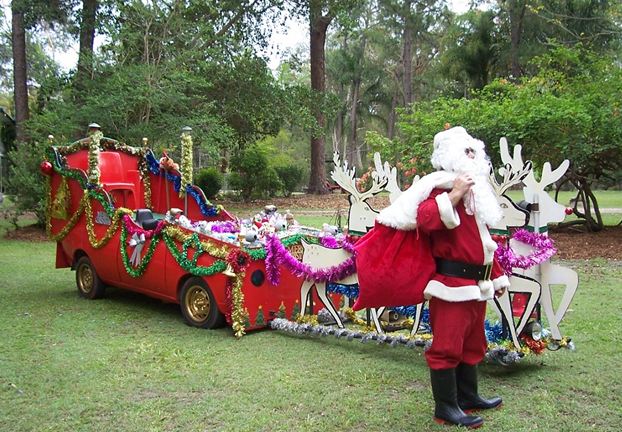 Santa has been a regular visitor to the privately owned Berrinba Sanctuary over the years but this year he is celebrating with the owners opening its gates to the wider community.
Visitors on the day will be treated to a range of activities and children will receive a free gift from Santa. Read about the festivities on WEEKEND NOTES. Read article here.
This an open day but not official opening day - that is yet to be planned and will be a very very special day for wildlife caring community.
Lots of fun, buy your lunch, listen to the singers, enjoy the natural bushland setting and maybe see a koala snoozing in nearby tree.
You will an Australian carnivorous marsupial even rarer than our vulnerable koala - a captive bred Dasyurus maculatus - the Australian native cat - or spotted-tailed QUOLL, Tiger quoll, tiger cat, yarri (in Herbert River District), burrumbil (Mulgrave River and Atherton Tablelands, north Queensland). Wildlife Queensland provide information about the quoll here.
Animal tracks and scats provide information about wildlife around as do the unique sounds produced by animals and birds. Listen to the sound made by a quoll on this page where you can also see its tracks and scats.
You will meet many people who care about Australia's unique wildlife and the essential habitat needed for them to survive. Berrinba Sanctuary - on the edge of Logan not far from Karawatha Forest which is part the recently gazetted wildlife corridor Flinders Karawatha Corridor - is home to many such flora and fauna.