How much is a koala worth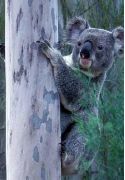 ? How many exist in their natural bushland areas?
Can you imagine a world without koalas?
Where would Australia be without them and the $2.5 billion a year in tourism they help bring in?
This is the value given by CEO Deborah Tabart of Australian Koala Foundation in a recent article about the unique mapping tool available on the AKF website. Although it's free to access, the information cost $8 million and thousands of volunteer hours to develop. Everyone in the world can now look at over 2000 koala habitat sites where 100,000 trees have been individually measured. Landowners can mark their own koala sightings and developers can see where koalas live. Check out the mapping tool here.
Not all landowners are happy to share their land with koalas - developing for housing or industry.In 1923 it was thought that, from an original population of over 10 million, there were as few as 45,000 koalas left in Australia. Now with 80 per cent of koala habitat cleared for buildings, roads, hard infrastrucure and resource exploration that number is far lower. For a koala, 'no tree' means 'no me'. Read the article here.
Unfortunately the property industry feels no obligation to help protect this unique Australian marsupial - claiming that houses would cost more - obviously passing on all costs to the consumer. Their concerns are reported in this Financial Times article.
The current Senate Inquiry into the status, health and sustainability of Australia's koala population with an interim report tabled 13 May 2011, advising that the committee now intends to table its final report on Wednesday, 24 August 2011.
The submissions received can be read here.
The conservation movement - and LACA Logan and Albert Conservation Association especially - believe the long term survival ie health and sustainability of the koala in Queensland will only be achieved with its being listed as endangered under Australia's EPBC Act.
If you share our concerns, consider writing to your representative as well as Minister Tony Burke who is tasked with the responsibility of making a ruling on the future status of the koala. Current management plans and policies do not protect the koala's habitat and food source. Science is still learning about the ecology and behaviours of the koala but I think there is little doubt that if we clear trees for housing then the koala's survival is limited.
Legislation that has planning power, plus tax or financial incentives to encourage and support private landholders to protect biodiversity are part of the necessary foundation stones, if Australia is going to save the koala on private land. NO TREE NO ME - sums up what we need to do.