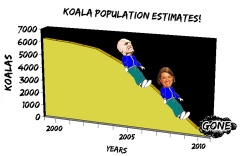 KOALAS - will they survive in Greater Flagstone UDA?
The koala was nominated for listing as a threatened species under national environment law—the Environment Protection and Biodiversity Conservation Act 1999—and was assessed by the Threatened Species Scientific Committee (TSSC) during 2008-2010. The TSSC recommended that the koala was not eligible for listing as nationally threatened, but noted that reaching a conclusion was challenging due to significant gaps in national koala population data.
The Minister has extended the decision timeframe on the listing of the koala as a threatened species, so that he can consider the Senate inquiry's findings before making his decision. You can follow that process here.
Detailed state or local government funded koala surveys have not been conducted in the areas proposed for UDA although DERM mapping indicates that essential koala habitat exists.
Wildlife Queensland Bayside branch have provided us with a copy their submission as it relates to koalas. The long term survival of our national iconic species is of national significance. Read WPSQ Bayside branch submission here
submission-to-greater-flagstone-uda-01-koalas.pdf
While conservation groups like LACA advocate for the koala as a unique species within the local and regional biodiversity, other organizations such as the Urban Development Institute of Australia UDIA told the Senate inquiry that further protection of koalas was premature and would cost much-needed jobs.
Battle of the bulldozer versus a national icon as reported in the Courier Mail here. Koala conservation is an imperative of more than just biological and cultural concern, it is an issue of national identity, international image and reputation. LACA supports the view of the UQ Koala Ecology Group which said listing koalas as endangered would at least provide a "speed bump in the road to extinction".
IF YOU SEE A KOALA PLEASE REPORT YOUR SIGHTINGS TO DERMs WILDNET.
IF YOU NEED HELP WITH THIS CONTACT LACA president Anne Page on 3297 0624 .