The Australian Pesticides & Veterinary Medicines Authority (APVMA)  has published  this draft document (45 pages)in relation to spray drift risk. In 2006 more than 100 industry representatives, chemical users, regulators, scientists and members of the community attended the APMVA's Spray Drift Forum in Canberra. Submissions to that document closed 6 October 2006 (to This email address is being protected from spambots. You need JavaScript enabled to view it.)
In addressing its responsibility to prevent possible harm from spray drift, APVMA has developed its risk assessment principles and requirements with four aims in mind -
Ensure that the registration process deals adequately with spray drift related risks to human health, the environment and international trade.
Create and maintain a consistent and transparent process for making registration decisions in relation to spray drift risk assessment and risk mitigation.
Harmonise APVMA's approach with the respective capacities of the States and Territories to enforce spray drift risk mitigation measures.
Promote understanding among product registrants, chemical users and the Community about how APVMA makes regulatory decisions when there are spray drift concerns.
Stakeholders at that forum raised their concern that risk assessment methods were inadequate in protecting human health. Further information is available about spray drift management here.
In addition the APVMA investigates all reports of adverse experiences with agricultural and veterinary chemical products in Australia. An adverse experience is an unintended or unexpected effect of a product when used according to the label instructions. This includes impacts on human beings, animals and crops; damage to the environment; or lack of efficacy.
DO THIS ONLINE or via post using this form for environmental adverse experience or this form to report human health issues.
More documents and information about adverse experiences relating to agricultural chemicals is available from APVMA here. Contact information from APVMA website - phone (02) 6210 4813 email This email address is being protected from spambots. You need JavaScript enabled to view it..   
In Queensland, the Department of Primary Industries and Fisheries (DPI&F) administers the Agricultural Chemicals Distribution Control Act 1966 (ACDC Act).  The ACDC Act controls aerial distribution (spraying, spreading or dispersing) of agricultural chemicals from aircraft to which aerial equipment is installed or attached.  The Act also controls ground distribution of herbicides from ground equipment. Under this act also, certain herbicides are restricted in particular areas to prevent damage in susceptible cropping areas. A map of these areas is available here. (It is a large file.)
Further information is available from the Biosecurity section website here.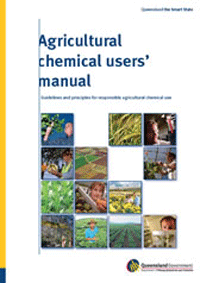 Biosecurity also publishes an Agricultural chemical users' manual available as free download from this webpage. This comprehensive text for farmers, growers, trainers, spray contractors and operators provides expert advice on using agricultural chemicals safely and efficiently. The manual covers the use of fungicides, herbicides, insecticides and other pesticides.
Advice for farmers and operators is provided Department of Primary Industries and Fisheries (DPI&F) such as the Spray right - reduce drift factsheet available here or as a pdf download.
Spray drift and human health or for information on suspected risk to human health caused by spray drift (including spray on roofs of houses and other buildings, and water tanks), contact your nearest Workplace Health and Safety office, telephone (07) 3872 0529 or visit the Workplace Health and Safety website by following this link.
Information on chemicals and pesticides used within the rural industry is available through the Safe use, storage and disposal of rural chemicals section the Workplace Health and Safety Queensland website. Also included is a Code of Practice for the storage and use of chemicals at rural workplaces. This code includes details of required record keeping to manage and assess risks. See this page for further information. 
From 18 November 2004 the Workplace Health and Safety Act 1995 (PDF, 766 KB) was amended so that all Advisory Standards and Industry Codes of Practice were continued as Codes of Practice and expire 10 years after their commencement date. Codes of Practice are not routinely updated to reflect legislative change and it is an individual's responsibility to be aware of and familiar with legislative changes that have been made since the commencement of any Code of Practice. Since this code commenced 28 April 2006 it will be current until 28 April 2016.