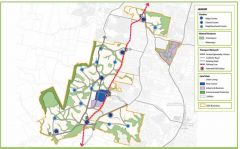 Greater Flagstone - what is your vision?
An area criss-crossed by roads - all needing to be upgraded and with extra lanes?
An area where increased human settlement of affordable housing - constructed before adequate wildlife and biodiversity studies are completed by impartial consultants?
An area already being cleared without adequate erosion and sediment controls in place
An area not contained within one connected geographical space
An area where the concept of identified growth areas is include within the UDA Urban Development Area [ renamed in last SEQRP from INVESTIGATION AREAS to identified growth areas - a misleading use of language and terminolgy for those new to the area and SEQRP documents]
OR DO YOU WANT AN AREA WHICH DEMONSTRATES THE ON GROUND PRINCIPLES OF
ECOLOGICAL SUSTAINABLE DEVELOPMENT?
Read LACA president's presentation notes from Greenbank submission writing workshop Tuesday 19 April 2011.
Greater_Flagstone_submission_Workshop_19_04_11.pdf Bytes 01/01/1970, 10:00
View presentation
greater_flagstone_april_2011_edo_workshop.pdf
Although many of us want to have better roads all the road changes will mean more tree clearing - meaning loss of habitat and other services provided by trees.
Have you seen Mt Lindesay Highway recently [ at least 3 koalas were seen in area by the wildlife spotters] ? This is an example of what is to come .
Following roads are listed in ULDA documents •Teviot Rd (Middle Rd - Kilmoylar Rd •Homestead Dr ( to Teviot Rd) •Cusack lane ( Teviot Rd - Johanna St) •Johanna ( Cusack Lane - Mt Lindesay Hway •Camp Cable Rd ( Mt Lindesay - Waterford-Tamborine Rd) •Crowson Lane ( Greenbank - Mt Lindesay Highway) •Greenbank Rd ( Crowson Lane – Mt Lindesay Hway) •Stoney Camp Rd ( Teviot Rd – Mt Lindesay Highway) •Mt Lindesay Highway (Johanna St to Logan Motorway) •Chambers flat Rd ( Chambers Flat to Waterford-Tamborine Rd) •Goodna Rd – Springfield Greeenbank Arterial – Middle Rd.
If you click on image above, a new page will open for the ULDA Urban Land Development Authority Greater Flagstone UDA Proposed Development Scheme documents.
There are many background reports [30 as of today 26 April]. This page has links to 33 guidelines,posters or strategies today.
COME ALONG TO THE JIMBOOMBA SUBMISSION WRITING WORKSHOP WITH EDO AND LACA
Wednesday 27 April at Caddies 7-9 pm
Caddies Community Care Centre
33 South St Jimboomba
HARDCOPIES OF ALL DOCUMENTS SHOULD BE AVAILABLE AT JIMBOOMBA GREENBANK and LOGAN VILLAGE LIBRARIES for reading on site