The Scenic Rim's
GREAT WILDLIFE DISCOVERY CHALLENGE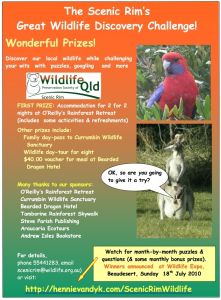 Over the next few months Wildlife Scenic Rim (branch of WPSQ) is presenting a series of puzzles and quizzes. Then at the Wildlife Expo in Beaudesert on Sunday 18th July the winners will be announced for the final prizes:
First prize:
Accommodation for two for two nights at O'Reilly's Rainforest Retreat, including refreshments and guided walks.
Other prizes:
Family pass for Tamborine Rainforest Skywalk, family pass for Currumbin Wildlife Sanctuary,
Wildlife Day-tour with Araucaria Ecotours,
Meal voucher for Bearded Dragon Hotel, various nature books.
The Challenge will help you to learn a lot about our local wildlife while offering you some wonderful opportunities for enjoying it.
If you'd like to help promote this by displaying the flyer, download the picture on the left as a pdf file