Quarry at KERRY renamed as ERIN VIEW KRA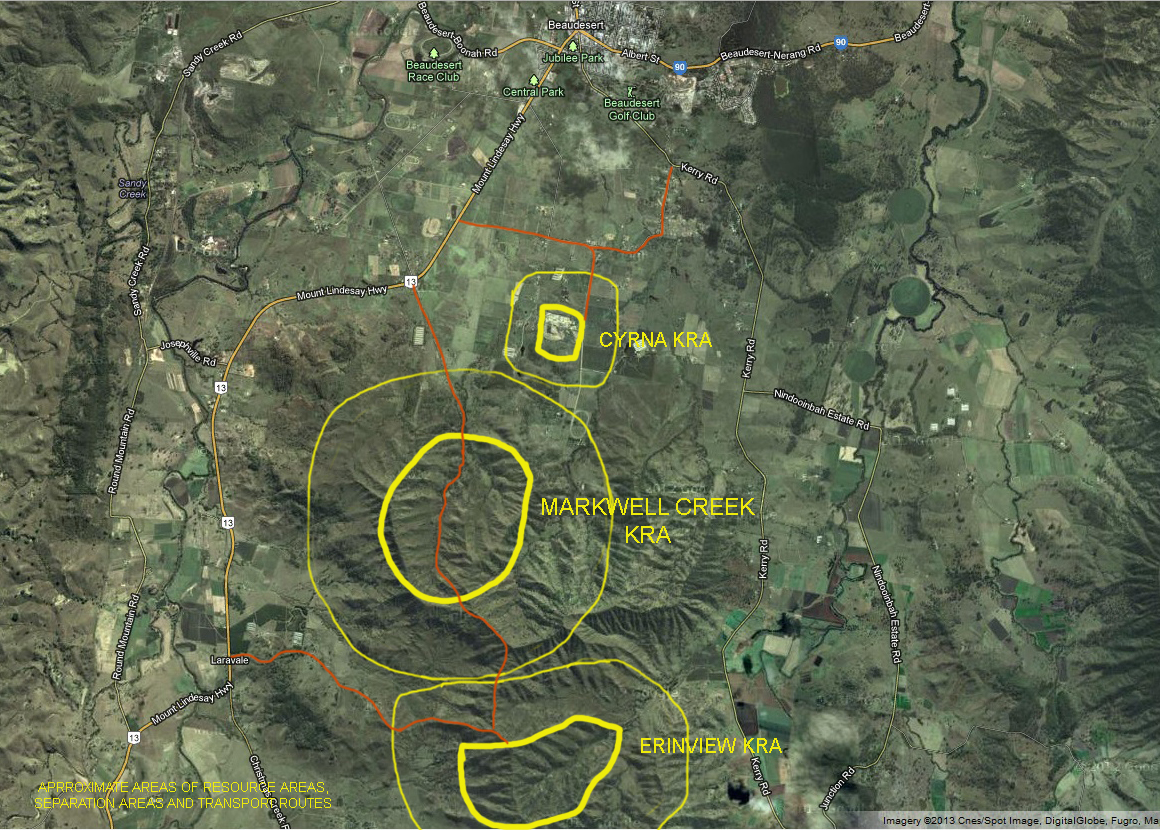 QAG Quarry Action Group led a well researched and successful campaign to oppose the establishment of a quarry in the rural area of Kerry Valley. Group members were pleased that Scenic Rim council refused the MCU application.
Unfortunately thes members have heard that "if SRRC had their time over, they would approve the Erin View quarry"
The State and Council claim (and it is legally the case) that the KRA designation is separate from the MCU approval process and is not intended to influence council consideration of the MCU. QAG advice is that in practice this is not the case and approval is more likely if a KRA is in place.
In essence the State, under the guise of flagging resources for future use, is via the current KRA process, taking existing property rights from owners and depreciating the value of their land with no compensation while simultaneously passing wealth to the individual or company resource site owners. Sheriff of Nottingham stuff!
The same issues as before are stll relevant - and more so because there are planned to be 5 KRAs in Scenic Rim. Far from being a natural environment visually and emotionally appealing the area will be marred by dust noise and increased road traffic pollution.
The threat of Quarry Central is hanging over the Scenic Rim unless the Scenic Rim Regional Council is prepared to stand with residents and fight for the community-expressed vision for a future based on agriculture, tourism and compatible development. QAG is seeking urgent meetings with Mr Jon Krause, MP, and the Scenic Rim Council.
The five areas cited by the State Government for designation as KRAs are:
- Cryna, an existing quarry recently given approval by the SRRC to nearly treble its output, five kilometres south of Beaudesert.
- Markwell Creek Road (greenfield site) eight kilometres south of Beaudesert.
- Erin View, Kerry (greenfield site) 12 kilometres south of Beaudesert.
- Kangaroo Mountain, four kilometres north of Aratula.
- Yore Road, three kilometres north of Tamborine Village
The immediate impact of a KRA designation on a site, regardless of whether it was ever developed, would very likely be to drive down surrounding land values and restrict the use options of neighbouring properties caught in buffer zones. Separartion areas or buffer zones will surround the quarry area and also along transport corridors. This is not land owned by the quarry site but will restrict what can happen on that land.
See Erin View Lot plan here and Markwell Creek Road (greenfield site) here.
These KRAs are part of the planning and background documents for the state's new approach which means that a single state planning policy has been developed to replace the multiple policies in existence. The draft State Planning Policy (draft SPP) ( 1.5 MB) sets out policies on matters of state interest in relation to planning and development, and provides a key framework for the government's broader commitment to planning reform.
There have been NO COMMUNITY INFORMATION SESSIONS IN SCENIC RIM OR LOGAN CITY. Gold Coast, Ipswich and Brisbane community were offered a session/briefing. The briefing was free, however RSVPs were essential. To request a briefing session, call 1800 600 163 or email This email address is being protected from spambots. You need JavaScript enabled to view it..
See what was presented in Brisbane http://www.dsdip.qld.gov.au/resources/publication/spp-seq-industry-briefing-presentation.pdf