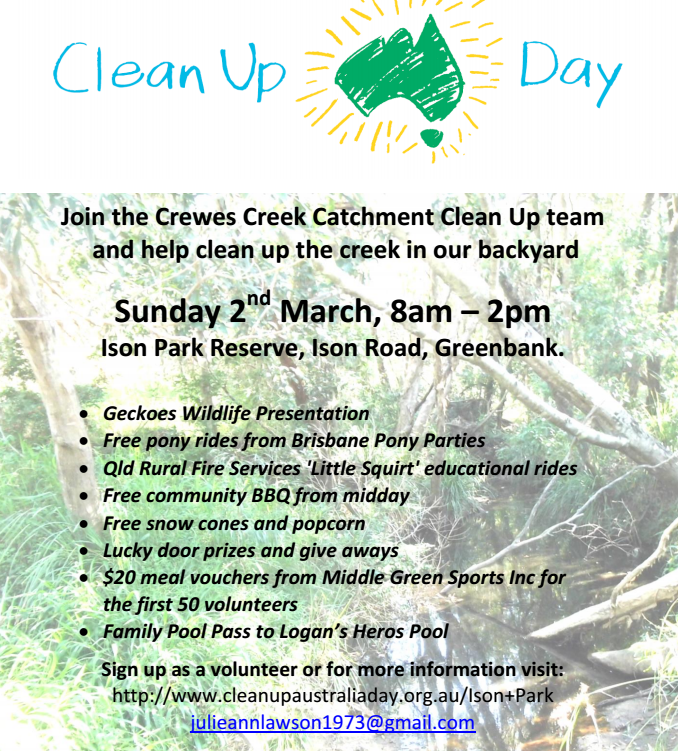 Join Crewes Creek Catchment Clean Up team and help clean up one of Logan City's beautiful creek / waterway areas - part of Ison Park Reserve, Ison Road, Geenbank.
This event is part of Clean Up Australia Day 23rd annual event held on Sunday 2 March 2014
Registering for the event would be appreciated http://www.cleanupaustraliaday.org.au/Ison+Park
Contact organizer This email address is being protected from spambots. You need JavaScript enabled to view it.
Lots of supporting businesses /groups helping to make this an enjoyable day out by providing gifts and give-aways. A very special thank you will be a Geckoes Wildlife Presentation
We encourage locals to come down not only to contribute to the health of our local environment, through removing substantial amounts of rubbish, but also to see the displays of local organisations and mingle with the community and like-minded people.
You may even have a project that you think our community should be aware of, so come on down meet our community and Councillors and share your ideas around the free community BBQ, proudly sponsored by Logan City Council, Greenbank Rural Fire Brigade, Queensland Rural Fire Services, Oxley Creek Catchment Association, Middle Green Sports Inc., Logans Heroes, Active Kids Early Learning Centre, Harvey's Mechanical & Towing, Roger Moore Splicing, Homestead Markets, Ollie's Orange Country Market, K T's Hair & Beauty, David Sykes Carvings, Greenbank Takeaway and the Port of Brisbane Rotary Club.