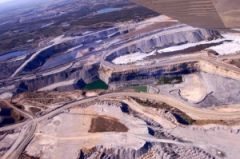 FOSSIL FUEL INDUSTRY COSTS NEED ALSO TO INCLUDE LONG TERM HEALTH IMPACTS FOR LOCAL COMMUNITIES.
HOW CLEAN AND GREEN ARE WE? How do we maintain and improve on what we have?
We humans are not always aware when we are being exposed to toxic chemicals that are polluting our air. We in SEQ South East Queensland especially in Scenic Rim and the south-western bushier vegetated areas of Logan City enjoy the benefits of clean healthy air - maintained freely by our planet earth's ecosysyems. People of Jimboomba and Flagstone are familiar with odiforous vapours which blow in from industry in Beaudesert. Visual pollution to the natural environment as this aerial view of some ecological devestation in Hunter Valley NSW has more hazardous impacts to humans - and other creatures.
International expert Dr Dick van Steenis is our very special guest at our
Expert and Community Forum on the Human Health Impacts of Open-Cut Coal Mining and Coal-Seam Gas Mining
Beaudesert on this Friday 18 March 2011
This is a great opportunity to hear from and ask questions of Dr Dick van Steenis, the author of the UK Coal Health Study www.coalhealthstudy.org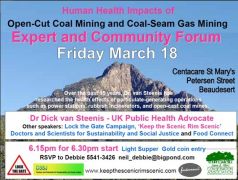 Other speakers are Drew Hutton from the National Lock the Gate Campaign who will provide a broad picture of coal and coal seam gas development in Queensland, Dr Sandra Bayley from Doctors for Science, Sustainability and Social Justice who will talk about the impacts of coal-seam gas water contaminants and the impacts on human health and Emma Kate Rose with Food Connect who will speak on the impacts on food production, and food safety. After hearing from a spokesperson from Keep the Scenic Rim Scenic who will talk about the campaign to protect the Scenic Rim, the evening with close with a question and answer session with the expert panel.
Centacare St Mary's
Petersen Street Beaudesert
6.15 for 6.30 pm start
light supper - gold coin entry
RSVP to This email address is being protected from spambots. You need JavaScript enabled to view it. 5541 3426