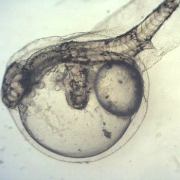 Farm spray from an adjacent macadamia farm is a suspect in deformed and diseased lavae at a Noosa fish hatchery.  Evidence has now also emerged of a possible cancer cluster next to the Queensland hatchery where bizarre double-headed fish embryos have been discovered. There are worries regarding use of pesticides - all of which are registered and recommended for use on macadamia farms and worries about the water contaminations from these toxic chemicals. Could these be related to each other? This is reported in The Australian 21 January 2009.
A 'must watch' documentary provides visual evidence of the situation. See it here on YouTube.
... ecotoxicologist Dayanthi Nugegoda, at RMIT University in Melbourne, said: "It's really concerning that we are using these types of agricultural chemicals."
Professor Nugegoda has read the pathology report on the Sunland fish written last October by Roger Chong of Queensland's Biosecurity Sciences Laboratory: "The fish are an early warning signal that now there are concentrations high enough to affect a vertebrate ... I think its time that we look at this."
 Dr Chong's report -- obtained by The Australian -- revealed the deaths, deformities and behavioural abnormalities of fish and fish fry were consistent with exposure to types of pesticides and fungicides used to treat the macadamia trees.
Using pesticides and fungicides treat macadamia trees is not needed to have a successful farm venture. Biological Farmers