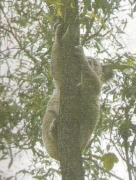 Anthony Mitrow reporter from the Jimboomba Times continues to follow local koala's story of survival in paper dated 21 January 2009. The koala's future survival depends on all of us. Unless Babe's habitat is surveyed and mapped for inclusion in the 2009 SEQ Regional Plan it will have no protection. REPORT YOUR SIGHTINGS and help make this happen.
BABE the koala has been hit by a car, chased by dogs and suffered a urinary tract infection, but the little survivor has now been released back into his natural habitat in Jimboomba after months of rehabilitation.
The young animal has spent the last four and a half months at Australia Zoo where it underwent treatment for a range of injuries.
Babe first came to the attention of Jimboomba resident John King-Bayliss when he found the animal on Marks Road, Jimboomba. Mr King-Bayliss chased the dogs away and contacted Logan City Council who searched the area for the dogs which were not found, before confirming the koala was safe.
Later that evening Mr King-Bayliss found Babe injured on the side of the road.
"It had been hit by a car. It had blood coming from his mouth and he couldn't use one of his arms." Mr King-Bayliss said.he made calls to animal wildlife organizations but was unable to get help until he was given the number for Waterford-based wildlife carer Mark Alexander from Wildlife Answers .
Mr Alexander said the animal was ear-tagged and microchipped at Australia Zoo and he was confident the animal would do well once back in his natural environment.
"You get some animals that settle into their rehabilitation centre but he was never happy;' Mr Alexander said. "When you opened the door he just wanted to go. He's a big boy, he just wanted to get back out, which is good."
"Where he went back to was a very good spot, at the end of the road right on the bottom of the range. He's got everything on his side. He's got that whole range area. He went back to where he came from which is very important"
"You might think all gum leaves are the same but they're not. Koalas get picky about their leaf."
Mr Alexander said the greatest threat to the survival of koalas in the area was humans and the problems they brought with them, such as dogs.
"When more and more people come you have and more problems," he said.
Logan and Albert Conservation Association vice president Kathy Faldt said dogs posed a serious threat to koalas and other wildlife and urged residents to act responsibly by keeping their dogs under control.
"In all areas where there are dogs it's necessary that the animals are restrained at night time and kept close to the house," she said.
Mr King-Bayliss said he believed both wild domestic dogs were causing problems for wildlife and he was pessimistic about the future of wildlife in the area.
"They're going to build 15,000 houses on the other side of the hill at Yarrabilba," he said.
"Probably in five to 10 years you won't even see a kangaroo or anything around here."
This story highlights the urgency of the koala mapping study but also the imortance of driver education and fauna sensitive road design that helps to prevent accidental encounters with wildlife which can be injurious to people and creatures.
DRIVE SAFELY AND SLOW DOWN WHERE THERE ARE OFTEN FAUNA AROUND.
What is of most concern to LACA is that the Interim Koala Habitat Protection Areas does not cover any areas in Logan except in the Mt Cotton area. This means that BABE's home his habitat may not be protected by legislation when the reviewed SEQ Regional Plan is adopted after July 2009.
The greatest treat to the long term survival of Babe and his mates in SEQ is the uncontrolled spread of human settlement without mandated controls and processes in place.
LACA is most appreciative of the care and concern Babe received from his two local rescuers. Mark from Wildlife Answers can be contacted by phone 24 hours a day 0409 051 815. His website is very informative. WILDLIFE ANSWERS specializes in Professional Wildlife Services including Spotter Catcher, Licenced Snake Removal, Possum Removal and Wildlife Management.