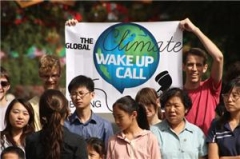 The press is reporting that global climate talks are in a shambles and the UN summit on Tuesday is the only hope to revive them. This Monday, 21 September 2009, citizens globally are flooding media and government office phone lines worldwide with a wake up call for leaders to act -- with phone calls being made from over 2000 rallies, marches, meetings and "flashmobs" in public places across the planet, and by hundreds of thousands of us from home.
Read global news cover at
http://www.nytimes.com/2009/09/20/science/earth/20nations.html?_r=1&hp
Should you wish to take part in this global day of citizen action you can  find all the information you need about the great Global Wake-Up Call events and phone-calls on the hub page at this link http://www.avaaz.org/en/sept21_hub/ , including photos, video and a liveblog for us to share our experiences of the day -- make a phone-call from home or work and tell us how it went at this link, or find an event near you to attend.
Here are the phone numbers to call in Australia (please start calling after 12.18pm Monday local time):
Prime Minister Kevin Rudd  (+61) (0)2 6277 7111 / (0)2 6277 7700

Climate Change Minister Penny Wong (+61) (0)2 6277 7111 / (+61) 1800 057 590

Parliament House Switchboard (access to all government and MP offices)  (+61) (0)2 6277 7111

Minister for Resources and Energy Martin Ferguson (+61) (0)2 6276 1000 / (+61) (0)2 6243 7003

Climate Change Minister Department of Climate Change (+61) 1800 057 590 / (+61) (0)2 6159 7002 / (+61) (0)2 6159 7000