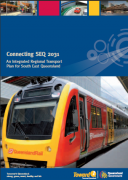 The Queensland Government's Connecting SEQ 2031 transport plan unveils a sustainable transport vision for the next 20 years - according to Transport Minister Annastacia Palaszczuk and Main Roads Minister Craig Wallace.
This draft document which informed the PARK RIDGE CONNECTOR CORRIDOR Community Stakeholders Reference Group discussions was annouced as policy just before 'whole' community consulation began on the PARK RIDGE CONNECTOR CORRIDOR.
Clearly this proposed new motorway extending south the Gateway Motorway and join the Logan Motorway - both toll roads - the proposed motorway will be a tollroad.
To download a copy of Connecting SEQ 2031, visit the project website at www.connectingseq.qld.gov.au
Connecting SEQ 2031 has established targets for Logan City Council local government area that aim to:
• increase the public transport share of trips from 5.5% in 2006 to 10% in 2031
• increase the share of walking trips from 8.1% in 2006 to 10% in 2031
• increase the share of cycling trips from 0.6% in 2006 to 7% to 2031
• decrease the share of trips by private vehicles from 85.8% to 73%.
According ot the policy document investment in Logan in active transport infrastructure will be focused on routes within five kilometres of the centres of Logan Central, Springwood, Beenleigh and Browns Plains and the new growth communities of Yarrabilba and Flagstone. Read that document here. There are no policies about public transport for the new growth communities of Yarrabilba and Flagstone.
There will also be a focus on improvements to the Logan Motorway and Mt Lindesay Highway to ensure the efficient movement of freight.
The Gateway Motorway extension from the Logan Motorway to the Southern Infrastructure Corridor will provide access to future growth areas at Flagstone and Yarrabilba, and provide a connection for freight vehicles between the Park Ridge Enterprise Precinct and the Port of Brisbane, the Pacific Motorway and the Ipswich Motorway.
The Southern Infrastructure Corridor will link the Gateway Motorway extension to the Mt Lindesay Highway, and a new link will be investigated between the Mt Lindesay Highway and Bromelton.